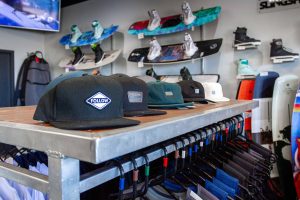 We have a fully stocked Pro Shop at the Park. Everything you need is in one place; boards, boots, helmets, vests, wetsuits, clothing and Perth Wake Park merchandise.
Wakeboards are a worthwhile investment. Buying a board that is suited to your needs and a pair of snug fitting, comfortable boots increases your experience, fun and progression exponentially. To ensure you are making the right decision, we offer a comprehensive range of boards combined with a demo program that allows you to test ride any board on the rack. Members can test any board at any time. Non-members can place a $50 deposit to try any of our boards for their session, we then take this off the board purchase price. (Please note that we can only take one x $50 session from the board price regardless of how many times board have been tested).
Members receive 10% off any Pro Shop purchases. Non-members receive free riding with every board or boot purchase and there are discounts for multiple purchases.
Come down and see our experienced and friendly staff for more details.
We have every board we sell as a demo.  Try it before you buy it using our demo program.
We specialise exclusively in product you can purchase and use immediately on the cable
We offer the very latest gear and friendly customer service.