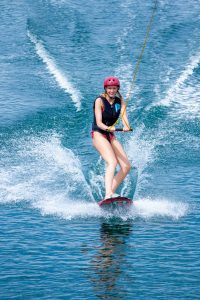 We have two System 2.0s which are variable speed, straight line cable systems. These are used for our Cable Wakeboard Intro lessons which is the perfect way to learn how to wakeboard at the cable. Cable Wakeboard Intro tickets include one hour on the Beginner Lake with an instructor as a formal group lesson and one hour on the Main Lake with further guidance from our experienced instructors. 
The Beginner Lakes have one participant riding at a time, allowing the instructor to adjust the speed to the ability of the rider. The smaller lake and personalised tuition make it the perfect way to learn in a safe and relaxed environment.
Spaces on the Cable Wakeboard Intro lessons are allocated as people arrive on the day, we don't take bookings.  Lessons run every half an hour on weekends during our Off Season (May – October). The Cable Wakeboard Intro is unavailable on weekdays during this period.  
Group sizes can be as few as 1 or 2 people during quiet times and group sizes are capped at 8 people during busy times. Head into the pro shop and see our friendly desk staff to be allocated a space.  Please allow plenty of time when visiting the Wake Park to do a lesson as there may be a wait time to be allocated a space on the next available Cable Wakeboard Intro.
We also privately hire these systems which is perfect for parties or small groups looking for a private session. Please contact us for further details and to book a private System 2.0 session.
Learn in a structured formal lesson environment with one of our experienced instructors.
Learn at a cable speed that suits you! Your instructor will vary the cable speed dependent on your ability and progress.
You can privately hire a System 2.0 for 1 hour with an instructor and all the gear during our opening hours. Call us or send us an email at [email protected]